Why it's important
Breastfeeding not only helps moms and babies bond, but delivers immeasurable health
benefits for both. Beyond nutrition and immunologic protection, are the wonderful benefits
of baby's ability to suck directly from the breast, versus the bottle.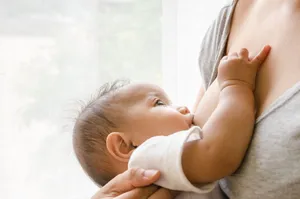 Breastfed infants work 60 times harder at the breast than feeding from a bottle. The very action of latching and suckling significantly increases the strength and size of the baby's tongue. A good latch will help expand the size of the palate, open the airway, oxygenate the blood, support baby's brain growth, and help prevent Obstructive Sleep Apnea.
What is "TOTS"?
The baby's failure to latch properly to effectively express milk from the breast causes great frustration and discomfort to mom and baby. Most often the baby's inability is due to a tongue-tie or lip-tie, or both—also called "tethered oral tissues" (TOTs).
BABY'S SIGNS AND SYMPTOMS
Weak latch, clicking sounds
Swallowing air (aerophagia)
Reflux or colic
Fatigue during eating
Projectile spitting up after eating, weight loss
Gagging, popping off breast to gasp for air
Lip blisters and callous
Gassiness
Congestion
Unable to hold a pacifier
Milk dribbling from sides of mouth
Heart-shaped tongue
MOTHER'S SIGNS AND SYMPTOMS
Cracked, blistered, bleeding nipples
Plugged ducts
Discomfort or pain while nursing
Thrush/mastitis
Comprised milk supply
Long nursing sessions (or extremely short because baby gets tired)
Postpartum depression
The following video is a great visual of the ways lip and tongue-ties can inhibit breastfeeding. Without full flexibility of the lip, babies are unable to properly flange around the breast. Without the ability to fully lift the tongue to the palate, babies are unable to successfully expel and transfer milk.
The need for change
Mothers often intuitively know something is wrong, but TOTs often go undetected,
misdiagnosed, or simply dismissed by many healthcare professionals.
Sadly, TOTs are generally not recognized as an easily treatable condition until the child
demonstrates an untreatable speech problem.
Historically, only severe tongue-ties have been treated—usually with the quick snip of a
scissors, which usually results in incomplete revision and almost never includes an
assessment of the upper lip.
Laser to the rescue
The state-of-the-art remedy for TOTs is laser surgery, and it can be done as early as the day
your baby leaves the hospital. With our Erbium Waterlase, your baby's TOTs can be
released in seconds—with almost no discomfort or bleeding. The tissue is released with a
cool light beam that reduces inflammation and recovery time.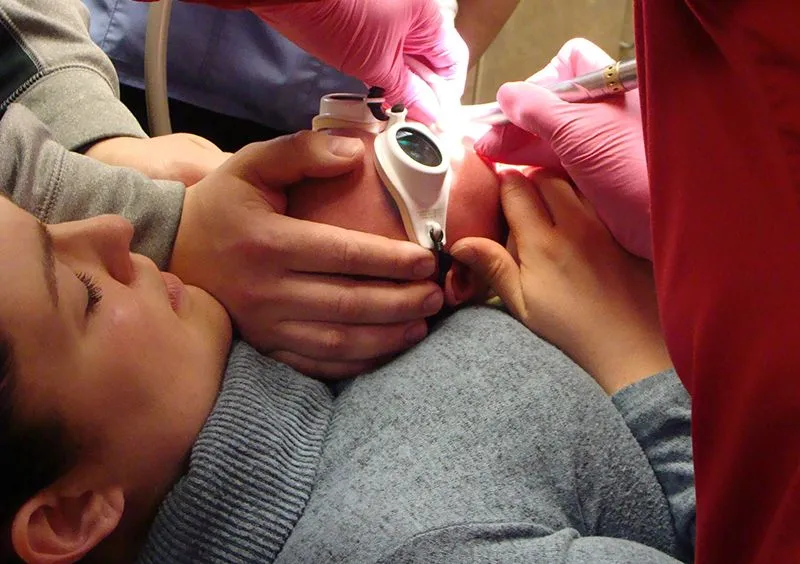 It's best for mom to bring baby to the appointment hungry, so they can immediately experience the joy of improved suckling. Depending on the advancing age of the infant, he or she may need a little time to re-learn new habits. We have a group of certified Lactation professionals in the community for follow-up assistance.
What are long term effects of not having this problem corrected?
There are numerous long-term effects of leaving lip and/or tongue-ties uncorrected. As children develop language, a tongue-tie can often cause articulation problems, while older children may begin to see gum recession or poor food cleansing, and ultimately, cavities. A lip-tie can create an abnormal gap between the upper front teeth that is very difficult for even orthodontists to correct, due to the thickness and height of the tissue. A lip-tie can also make brushing very painful, as lifting the lip up to brush the gumline is restricted.
It is never appropriate to diagnose yourself or your child. If you're concerned about a lip-tie or tongue-tie, be sure to reach out for a quick consult with Dr. Susan. You are welcome to contact us directly without a medical referral. (517)694-0353
WHAT patients are saying about the treatment....
" We had SUCH a wonderful experience at Susan Maples office. Our 1 week old son went in to correct his tongue and lip tie. We were greeted warmly upon arriving and treated with respect and kindness the whole time. Dr. Maples explained everything clearly and I felt veryconfident in the care of my newborn received. Awesome experience. Would recommend Susan to anyone!"
- Rachel via healthgrades.com
"I just want to say how pleased I am with Dr. Maples and her staff! We brought our daughter there yesterday to have her lip-tie revised and everything went perfect! She is healing great so far. The entire staff was so friendly and knowledgeable! It was a relief to be around people who actually knew what they were talking about. I highly recommend the laser treatment with Dr. Susan Maples. PS - We drove over 7 hours to have this procedure done and couldn't be happier with our decision!"
- Jamie via google.com
In my professional career, there is nothing more gratifying than being able to instantly prevent a lifetime of medical issues (such as reflux, sleep apnea, ADHD, learning disabilities and failure to thrive).
— Dr. Susan Maples