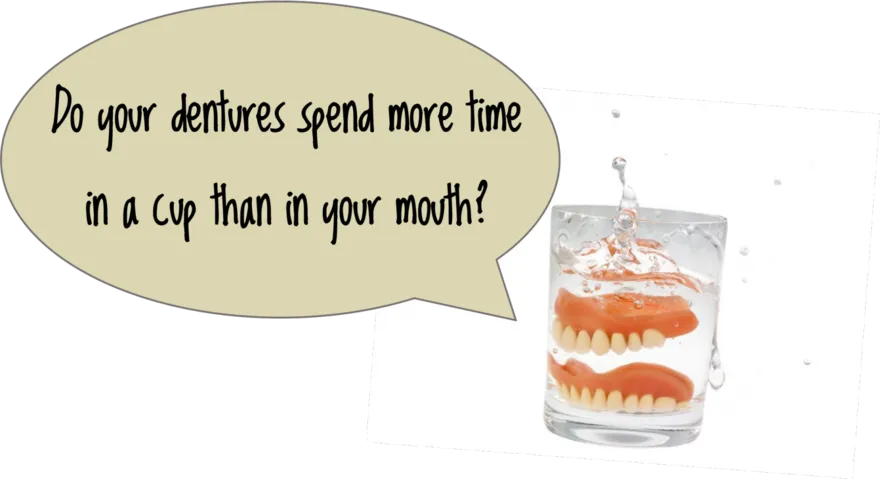 Social Insecurity means smiling or eating with teeth that hurt, don't feel solid or make you look old!

We are excited about providing you a unique, comprehensive and highly successful denture program that results in :
Teeth that will make you look and feel more youthful

Teeth that allow you to enjoy foods you have not been able to eat

Teeth that are comfortable and secure

Teeth that allow you to speak with confidence

Teeth that look natural and will have people thinking they are your very own
The process, called the Branching Technique, is a highly individualized approach to replacing teeth. Unlike the traditional methods, this customized approach also allows you to wear a "trial" denture to make sure you are totally satisfied before the final fabrication. Let us put it this way:
We want to work with you, not on you.
Most people are displeased with some aspect of their existing denture. They often feel disappointed that they didn't have much say in their creation. We like to work in collaboration with each person to restore their appearance, speech and comfort – just the way nature intended it.
Don't be without teeth for a minute!
If we are helping you through the transition to prosthetics, rest assured we will do it in the most dignified way possible. We will help you look and feel your best through the entire process. As well, during the healing phase of your transition, we will see you as often as needed (for no extra cost) to make sure your new prosthetics fit securely and feel great.
Rock Solid means teeth that are supported by new (mechanical) root structures called dental implants. If you think you have exhausted all possibilities for improving the fit of your removable teeth, let us help you discover the implant-supported solution that is just right for you.
I'm very confident in my smile. Finally, Susan made my teeth look and feel so natural even though she never even saw my real teeth. She just seemed to know what fit. My lower denture is secured with implants and the whole process was so easy. What a relief! I'd do it all again in a minute.
Norma, Patient
We've Earned the Reputation
In all her years of experience, there is NO procedure Dr. Susan loves more than removable prosthetics (dentures, partial dentures and implant-supported dentures). In fact, Susan won the Complete Denture Award at University of Michigan in 1985. She has also completed the advanced Branching Technique program with Dr. Jack Turbyfil as well as the highest levels of cosmetic competence available in the U.S. In addition, her diligent study of TMJ and facial-muscle pain allows her to solve chronic discomfort issues with predictability. We have worked very hard over 30 years to offer our prosthetic patients the very best skills, experience and outcome we can possibly achieve. In doing so, we have earned the respected referrals of other physicians and dentists.
"We won't be finished until you are totally satisfied!"
Bonnie, Before and After
Nancy, Before and After
Can I Afford It?
The cost is as individualized as our treatment, depending on your level of complexity.

We will always try to give you the most affordable solution as well as a variety of payment and financing options that fit as comfortably in your budget as your teeth do in your mouth.

The Total Health Connection
Are you tired of your teeth hurting, breaking, drifting or giving you bad breath? Freeing your mouth of infection from gum disease or decay may be exactly want you need to feel more energized and healthier overall. Plus, chewing well again will increase your ability to be healthy and stay that way.
Chewing is ever so important—it's the first step in the digestive process. And ill-fitting dentures or partials are just a drag. Sometimes the solution is a simple "reline", or refitting of the existing dentures. Sometimes new dentures or implant supported dentures are the answer.
The bonus? You'll finally have an infectious smile that smacks of confidence, making you feel good inside and out!
Smile.. It's Time for a Change!




We want to do everything we can to help each person take a significant step toward his or her desired oral and systemic health.
If you or someone you love is struggling with prosthetics or worried about the transition to dentures or partials, we invite you to contact us and schedule a consultation.