Our nation's children deserve a great dental start!
Childhood dental disease (severe tooth decay) is a national crisis of epidemic proportions.
The Good News?
Consider our dental team as dedicated partners with you and your child to achieve healthy oral hygiene, nutrition, and science education, in order for your child to remain cavity-free for a lifetime. Together, we can prevent the spread of this 100% preventable disease!
44% of American children already have tooth decay before they reach kindergarten
More than 51 million school hours are lost nationally each year due to tooth decay
Tooth pain and infection is the number one reason for child emergency room visits
We recommend that you
and your child visit us
before the age of one for a comprehensive exam with
one of our infant­ expert
hygienists and Dr. Susan.
Your 60 minute visit will begin in the relaxed setting of our library. We will gather pertinent information about your child's development, social, physical and dental histories in order to identify possible risk factors for dental disease.
Next, we move to the hygiene room where hands-on coaching for proper teeth cleaning and a clinical examination takes place. Dr. Susan will do a knee-to­-knee exam, with the child on your lap, leaning backward for good visibility. She will assess tooth and skeletal development, airway adequacy, any abnormality caused by tongue, lip, thumb, finger, pacifier habits, and any early signs of enamel deficiency. We will also apply a protective fluoride varnish for cavity prevention and discuss our exam findings.
The opportunity for asking and answering questions about oral health makes this visit pivotal to both the parents and the clinical team.
Preventive areas included in all infant oral exams include the following:
Comprehensive health history evaluation
Diet and nutrition counseling
Fluoride exposure and adequacy
Transmissibility of cavity causing bacteria
Oral habits and detrimental effects
Tooth and bone growth and development
Injury prevention and trauma
Oral hygiene responsibilities and coaching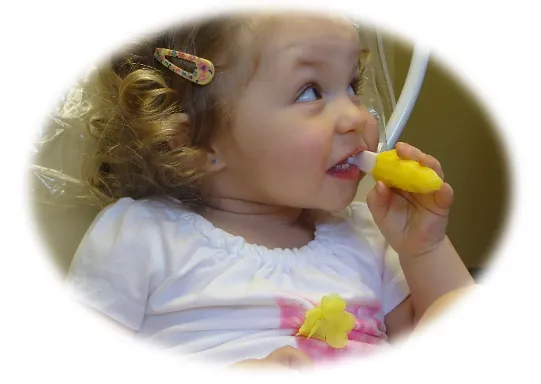 We will provide personal guidance on risk factors, determine individual care intervals and clearly outline a plan to prevent dental decay.
At the end of your visit, your hygienist will lead you through a brief tour of our Hands-On Learning Lab™. In this unique space we see all of our toddlers, children and teens, ages two to 18. At each visit we begin with a "self prophy", which is a one-on-one, hands-on approach to oral hygiene skill development.
Lastly , we help children complete one or more of our 60 health related science experiments. Our goal is to put each child in the driver's seat on their journey to whole-body health.