Our Hands-On Learning Lab™ Helps Your Child Learn How to Stay Healthy for Life
The mission of the Hands-On Learning Lab™ is to involve each child in his or her quest towards optimal oral health, total health and nutrition, and to gain a unique exposure to dental health careers.
In 2007, Susan and her hygiene team developed a child self-prophy model that busted a paradigm in individual skill development. In 2009, they took a giant step further. Susan and her dental team developed a children's science Hands-On Learning Lab™ that gives kids a brand new experiential approach to learning about their bodies, oral health, nutrition and career choices in dentistry. Finally, children themselves are able to choose health goals of their own and try out new behaviors that match that outcome.
What Kids Are Saying

"I liked when I put the floss through your fingers to get the peanut butter off from between my teeth. I had so much fun. I had so much fun in the Learning Lab. I want to do it again!"
Keely, Age 6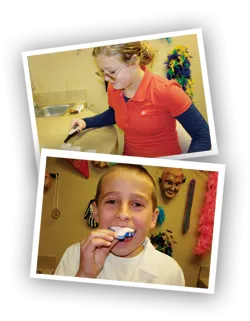 "The cavity detecting laser was so cool! I didn't know cavities could be so big without being able to see them on a tooth. I liked how the laser beeped louder as the cavity was bigger."
Samantha, Age 12

"Wearing the lab coat was cool. The impression material I put in my mouth felt funny. I can't wait to see the model of my teeth."
Patrick, Age 10
Put Your Hands on This
What Our Hands-On Learning Lab™ Teaches Kids:
Individual skill-building for optimal oral health
Cavity formation, detection and prevention
Bacterial and inflammatory diseases in your mouth
Oral cancer causes, detection and prevention
Nutrition for oral and total body health
Dental professions exploration
Forensic dentistry for fun
Self-Care Model
We're making teeth-cleaning more fun and more effective.
In the learning lab each child works one-on-one with your child's or teen's hygienist as a coach. We support developmentally appropriate skills for each individual. Also, we'll take the confusion out of the many choices of teeth-cleaning items (brushes, pastes, flossers and pics, fluorides, etc.) available today.
Our goal at each visit is for each child or teen to take one more step toward optimal dental health for a lifetime.
Health-Related Sciences
Learn about bacterial infection in teeth and gums such as Gingivitis (gum inflammation), Periodontitis (gum disease), Smoking Stomatitis, and Angular Cheilitis.
Discover how the acidity of various foods and beverages, regardless of sugar, effects enamel erosion and promotes cavity formation.
Witness through science experiments just how sugar plus plaque (bacteria) combines to cause cavities: sticky sugars verses liquid sugars, frequency versus quantity. Read the label and do the math to see just how much sugar is in your favorite pop or breakfast cereal.
Study the internal anatomy of teeth, gums, and bone: healthy versus unhealthy structures that require various dental restorations, root canals, orthodontics, and extractions.
Realize small changes in nutrition that make a big difference – changes that promote healthy mouths as well as healthy, strong, lean bodies.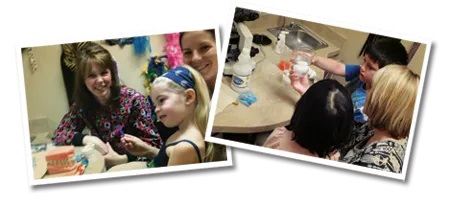 Exploring Dental Careers
Play with our dental art-materials. A child or teen might take an alginate impression of his or her own mouth and, with plaster, turn it into a replica model or learn how to place a sealant or a composite filling.
Observe dental procedures of all kinds. Wearing a white lab coat and mask, children and teens are invited to observe the dentist, dental assistant and the dental hygienist in action! Teens can feel free to enjoy an extended stay, observing Dr. Susan, Jean, and Kelly or their own hygienist – for as long as they like.
Discover abnormalities and diagnose dental disease using our digital photo library, intraoral camera, dental instruments, laser cavity detector and periodontal probe.
Investigate Forensic Dentistry; use tooth models and x-rays to help you match the physical evidence to a real person—someone on our dental team.
Learn about the various dental specialty services such as Orthodontics, Endodontics, Periodontics, Prosthodontics, and Oral Surgery.
Our Team's Mission
Our dental hygiene team is committed to changing how children and parents feel about dental health and dentistry. We respect and nurture each child's individual spirit. We support a warm, inspiring and fun environment for children at any age in order to stimulate self-confidence, a feeling of safety and an excitement for their overall health. It is our privilege to take time to partner with each child to discover their own unique potential and to explore dental health in a new way. We specialize in inspiring and empowering children and it shows in everything we do.
Our Goals:
To help each child, by age 18:
Have as few teeth filled as possible
Develop children's and teen's skills and behaviors that support a lifetime of dental health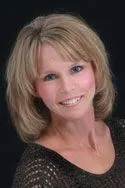 By developing each child's own special interest through a mutual partnership of education and fun, I hope to make a positive impact on each child's life. I will plant a seed today and grow a whole garden eventually! How rewarding!

Georgette, RDH
Healthcare Providers
If you are a dental or medical office, school or public health facility inspired to make a difference in your child or teen patients' health and would like a Hands-On Learning Lab™ , you can purchase your own here !

Dr. Susan is also available to speak to professional and civic organizations, schools and parent groups on the significance of optimal children's health, and just how to achieve that.

Kids love the Hands-On Learning Lab and parents just rave about how we are helping them raise their kids' awareness of both dental and general health. It has been our best return on investment to date.

Dr. James Hill, DDS